Relative to Goddess Baglamukhi Yantra
Baglamukhi Yantra is considered one of the most felicitous Yantras which is used in various religious rituals. According to the Scriptures, Devi Baglamukhi is the Goddess of fortitude and competence. It is believed that Baglamukhi Yantra is known to give instant results.
It is believed that Devi Baglamukhi has the devotional powers to paralyze an enemy's speech. Baglamukhi is great to call when deception and gossip are floating near us. With the assistance of this Yantra, you can get relief from adverse energy and bad spirits.
The Baglamukhi Yantra comprises the vital energy of Maa Baglamukhi, who is as well known as Shakti. This Yantra will meet all the worldly desires of the worshipper and protect counter to evils.
Baglamukhi Yantra gives you freedom from the cycle of life and death. This Yantra should be put up in the temple of the house or office.
This yantra is to be used by Turmeric, Dhatura flower juice, or yellow opponent on a piece and be worshipped to achieve success. The yantra is carved on a copper plate only. Baglamukhi yantra is very persuasive to ward off the evil effects of souls and Yakshani as well to get success in gambling. This is a very impactful and beneficial yantra for victory over enemies, claims, and success in differences and contests.
Baglamukhi yantra is effective as a memo of accomplishing success over enemies. This yantra also protects cuts, scars, operations, and accident cases. Baglamukhi yantra must be written or embellished on copper, bronze Silver, or Gold. It is worn on the neck and also kept in the puja Ghar. Its pooja is performed by yellow beads, rosary, and yellow dress through Beej Mantra to be recited daily and regularly.
Baglamukhi Yantra Puja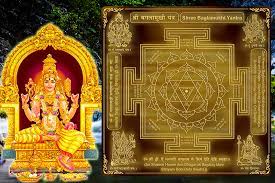 Bath the yantra with Panchamrit before bringing it into utilization. It should be inaugurated in the temple of the house or office. Further establishing the yantra; worship it with flowers, coconut, turmeric, rice, etc daily to get good results. As well, the puja must be performed at the time of chanting the mantras. Mantra chanting generates positive energy in the yantra that is then transferred into the environment.
Baglamukhi Yantra should be established at night just as the energy emitted from this yantra is strong and effective at night time. It can be established on special occasions such as Maha Shivratri, Holi, and Diwali. Goddess Baglamukhi can be viewed as sitting on a throne covered with jewels and killing demons. In this complete universe, no man could ever defeat the goddess Baglamukhi. She provides victory to her devotees in every factor of life.
Establishment of Baglamukhi Yantra
Ahead of establishing this yantra, it must be cleaned and pristine with Ganga Jal and Panchamrit. The person establishing the yantra must possess a pure heart and have faith in the goddess at the time of performing the puja. It can as well as be worn in the form of a Raksha Kawachi made in gold or silver. In case someone wants to draw the yantra by himself, he must adopt yellow and orange colors to create it. It is believed that the goddess Baglamukhi had a fair texture that used to glow such as gold. This is the reason why the person should wear yellow-colored clothes while establishing the yantra.
Utilization of Baglamukhi Yantra
Baglamukhi Yantra must be worshipped with dhoop and Diya daily. The worshipped must wear yellow-colored apparel, and sit on a yellow floor while offering his puja. Other than, keeping it in a puja room, one can as well wear this yantra on his neck. Yellow-colored seeds, yellow apparel, and a yellow floor should be used while worshipping the yantra. The worshipper should as well chant Baglamukhi mantras when offering his prayers. It is believed that the man who donates yellow cloth in the temple in the name of goddess Baglamukhi gets relief from all sorts of suffering and troubles in his life.
Baglamukhi Yantra Benefits
Baglamukhi yantra provides victory over demons, destroys demons, and protects us from evil spirits. The person holding Baglamukhi yantra gets success in legal cases. It is very vital to follow the rules and rituals referred to in ancient scriptures to worship this yantra. Chaturdashi on Tuesday, when Sun is situated in the Capricorn sign is considered very auspicious for building Baglamukhi yantra. It is believed that the goddess Baglamukhi appeared on this day just to destroy devils in all three worlds.
Importance of Baglamukhi Yantra
Goddess Baglamukhi is the 8th Mahavidya out of the 10th Mahavidyas. She is the goddess of huge power and is worshipped to achieve victory over enemies, arguments, etc. A person who worships her gets relief from all kinds of problems in life. It is believed that the goddess herself locates in this yantra that provides immense power to the devotees to get success in every factor of life. Worshipping her relieves every kind of barrier and difficulty of life, and the devotees attain liberation.
SHOP FROM THE NO.1 ASTROLOGER IN INDIA- DR. VEDANT SHARMAA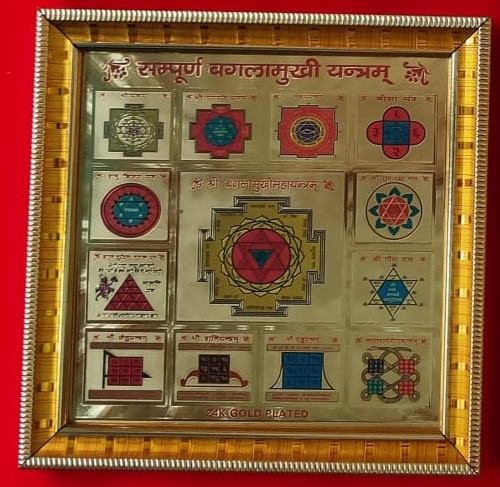 Shop Baglamukhi Yantra online now from the No.1 Astrology Ecommerce Store in India (Vedantsharmaa. In) as they sell 100% original and certified astrology products.